Bursary Scholarships
How young people can sing for free with Ealing Choral Society
Pauline Holman

Pauline was born in Swindon and spent her youth there. She moved to London and graduated from London University. She moved into research for a short while, then taught Biology at a school in Isleworth until her retirement. In 1948 she married another teacher who was a violinist, she played the 'cello. She was widowed in 1962.
Pauline's main interest was music. She was very proud of the fact that she was a founder member of Ealing Choral Society. She was also accompanist to the Acton Male Voice Choir for many years. When it disbanded, she accompanied a vocal group who entertained at clubs and residential homes. She was still singing and playing until her illness and untimely death in 1999.
Pauline (far right) with other founder members of the choir (from left: Frank Welchman, Ela Thomas and David Wedmore)
Winifred Thorne

Winifred was born in 1919 and lived for much of her life in Norwood Green, working as a payroll clerk. She was a great music-lover, and often attended courses at the Benslow Music Trust in Hitchin. In 1996 she joined Ealing Choral Society as an alto, and was an enthusiastic singer until she became too frail, retiring in her 90th year in 2009! Winifred was a generous benefactor to the Society, making a donation to the 50th Anniversary Fund in 2012 as well as providing a legacy in her will.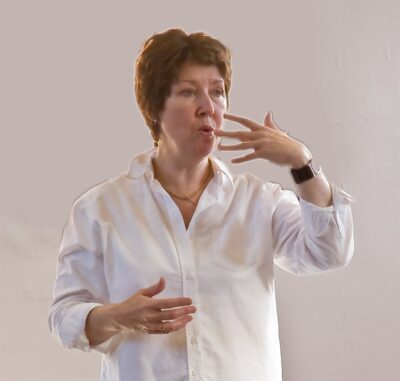 Part of Pauline's and Winifred's legacies to Ealing Choral Society are being dedicated to providing bursaries for young singers. The choir is keen to receive applications from any young people who want to sing choral music with a good choir and professional soloists and orchestra.